Call for Erasmus+ Mobility Winter 2023 from PGU to UCO
Published on: Thursday 17 Nov 2022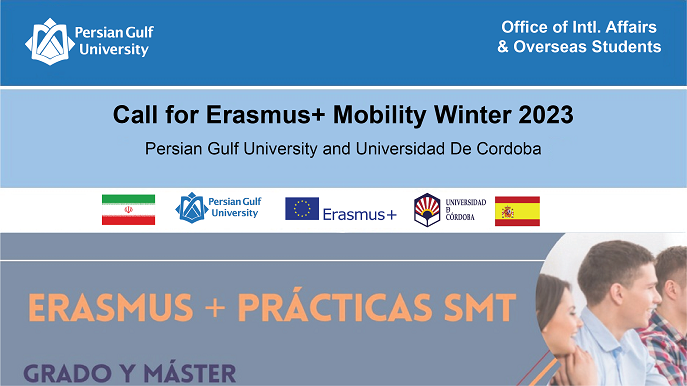 1. Introduction
Regarding the renewed inter-institutional agreement between two institutions for Erasmus+ Mobility (2023) and the positive experience of mobility in 2022 from PGU to UCO, this call has been announced on behalf of the Office of International Affairs and Overseas Students to nominate the candidates for mobility from Persian Gulf University (PGU) to Universidad De Cordoba (UCO) for the available Positions in 2023.
2. Available Position and Funding
Type: Student mobility for studies sabbatical
No. available positions: 1
Duration: 3 months and 4-5 days
Funding: 850 EUR per month and 28,33 EUR/day individual grant + 820 EUR travel support
Financial conditions
Note: The participant shall receive individual and travel support in a timely manner upon arrival to Cordoba. For students, the individual support from Erasmus+ EU funds for the mobility period is 850 EUR per month and 28,33 EUR per extra day. In addition, the participant shall receive 820,00 EUR as a contribution for travel. The applicant should afford at least a one-way ticket from Bushehr to Cordoba, which will be covered after arrival to Cordoba.
3. Who can apply?
The graduate students (PhD and Master of Science/Arts) who study in one of the following fields at Persian Gulf University are allowed to apply for an available position in this call.

History
Language acquisition; Literature and linguistics
Psychology
Management and administration
Inter-disciplinary programs and qualification involving business
Environmental Sciences
Inter-disciplinary programs and qualification involving ICT
4. How to apply?
The soft copies of the required documents must be delivered to the official email of the office of International Affairs and Overseas Students at Persian Gulf University (intl.office [at] pgu.ac.ir) before the deadline within an email with the subject "Erasmus+ [ApplicantName]" and an attached rar folder titled "ApplicantName" containing required documents with relevant names in English.
The strict closing date of the call is December 21, 2022 (30 Azar, 1401).
5. Required documents

- Motivation Letter (one page)
- Invitation from host professor (Highly Recommended for graduate students)
- CV and two Recommendations in English from the Supervisor/Director of the group
- Transcript (Persian is accepted)
- Language proficiency proof (Recommended)
- Copy of passport